AMBASSADOR IN PUERTO RICO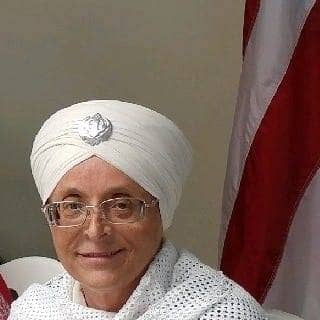 PREET KAUR KHALSA PLUMEY
Kundalini Yoga Teacher
My mission is to promote chardi kala around the world. My scope of service includes promoting diversity and cultural 
competence as taught by Guru Nanak Dev Ji, thus bringing to the foreground of color and caste for the purpose of uplifting people who have a history of being marginalized, using social media and other means as platforms to inform communities of the life experiences and concerns of marginalized people with regard to the need for social change, dialogue, inclusion, compassion, tolerance, and cultural literacy,  and growth in our human relations going forward in order to better facilitate the current worldwide shift in global consciousness from tribalism, instability, and extremism, to harmony, cooperation, and enduring peace. In addition, I welcome and support other organizations that promote the transformation of 
consciousness as taught by Guru Nanak Dev Ji throughout his life and travels. For more info: https://www.harisingh.com/PreetKaurKhalsa.htm?fbclid=IwAR2UBYsRiaS9blXgi30P0-Qnew7MSLYS7L4E4Xk86nii9qcFhK71aws4KKw
SACHJOT KAUR
KRI certified teacher
Sachjot Kaur is from China and lives in Xuanen Hubei province of China.
She is a Kundalini Yoga Teacher and Trainer. She has traveled to India several times to visit the Golden Temple and participate in International Yoga and other religious events.
She recently traveled to many Sikh Gurdwaras with the Sikh Dharma India Yatra and also participated in the 350 Years of Guru Gobind Singh's Birth Anniversary.
She is dedicated to the mission and legacy of teachings of Yogi Bhajan and Sikh Dharma. 
Andrea Sauter ( Siri Sat Kaur )
Kundalini Yoga Teacher
Siri Sat Kaur was born in Ottawa, Ontario Canada in 1957 to German immigrants. Her first language is German, She currently lives in Kingston Ontario.
She first came across kundalini yoga in 1998, when she was in chapters and saw a video cassette, that had a woman named Gurmukh and kundalini yoga. She had never heard of kundalini yoga, and she actually didn't like yoga. Well after that first class she was hooked, she had to know more, about it. There was no kundalini anywhere around her neighborhood, then she found out she could do teacher training.
She became the first kundalini teacher in Kingston. She then got Interested in Satnamrasayan and took many retreats with guru dev became a level two practitioners. She has two grown daughters and two grandchildren. Her contact Info is sirisatkaur@yahoo.com
RAMESH SINGH KHALSA
Worked at Pakistan Sikh Council
Sardar Ramesh Singh Khalsa is a Pakistani young Sikh leader and a social worker from Karachi Singh, Ramesh Singh is the Patron in Chief for the charitable organization the Pakistan Sikh Council.
The council works for the rights of the Sikh community and undertakes the social work for all communities in Pakistan. They provide food. supplies and sometimes shelter for the less fortunate. He is the first Sikh member of the Sindh Non-Muslim Welfare Committee and the Government of Sindh. Ramesh Singh is the Chairman of the Sikh Naujawan Sabha Pakistan, and also a member of the Human Rights Commission of Pakistan (HRCP).
He has been serving the Sikh Community in Pakistan for the last 16 years and has support from all communities living nearby.
TEJA KAUR
Kundalini yoga teacher
Teja Kaur has studied accountancy and she has studied economics, finances, and marketing. 
She currently serves Sikh Community and teaches Kundalini yoga to people.
Siri Deva Kaur
KRI certified teacher
Siri Deva Kaur began to practice kundalini yoga in 2012 and have been teaching to different communities since then.
She had learned Naad yoga in 2015 and then she learned Naad yoga with Sakirin Kaur Khalsa in 2018!
She has traveled to India many times and participated in various workshops of great teachers! Siri Deva Kaur is Deeply influenced by the Sikh Dharma way of life!
Siri Deva Kaur has been studying and translating Japji for a while now, and realized how Siri Guru Granth Sahib transformed her entire life!
AMBASSADOR IN SOUTH KOREA
Prof. Lakhvinder Singh Ph.D.
Chairman of India- Korea Business Forum in Seoul
Dr. Lakhvinder Singh is affiliated with Asia Institute in Seoul. He holds two doctorates, one in Korean studies at Sungkyunwhan University in Seoul, Korea, and the other in International Politics at Jawaharlal Nehru University in Delhi, India. He also received a senior fellowship from Harvard University in the Practice of Trade Policy in the United States.
Dr. Singh also heads India- Korea Business Forum in Seoul. He is a central figure in Korea-India relations and was recently called the "Father of India- Korea Strategic Partnership" by vice defense minister of Korea Dr.Seung Joo Baek as recognition of his work in promoting India- Korea cooperation.
Dr. Singh is also serving as president of Punjabi Association of Korea in Seoul since 2013 and leads the community in organizing various culture and religious event in Korea. Currently, he is living in Seoul with his wife and two children from the last 23 years.
Malini Chang
Professional accreditation of the American International Akashic Commission
Malini Chang is the professional accreditation of the American International Akashic Commission.
She is the professional leader of Egyptian pilgrimage tour.
She is also a certified yoga teacher (
Yoga Alliance-RYS 200
)
She currently lives in Yuanlin City, Taiwan
Meher Harnal Kaur
Journalist & Kundalini yoga teacher
Meher Hernal Kaur is a Kundalini Yoga Instructor at Rukalihuen and Terapeuta ROAF, Alquimia Feminia at amapolayoga Estudio – concepción.
She currently lives in Concepción, Chile
AMBASSADOR IN UNITED KINGDOM
Jangi Bakshi
Vice President & Joint CEO of Nano Living System, Pvt. Ltd.
Jangi is from an army family back ground.
He was educated in Jodhpur, Rajasthan state of India. In 197O he moved to Delhi. Since 1976 he has lived in London, UK, where he completed a diamond grading course and became a producer of diamond jewellery in Hatton Garden for 10 years.
From 1985-87 he has played pivotal role in shaping 100 EOU/EPZ export policy for Government of India and successfully secured the first licence in entire India.
He has attained 35 years of experience in a cross section of industry and has become well versed in competitive manufacturing, marketing, out sourcing, administration & financial work. He has been involved with a number of 14 offices across five continents for arranging financial and technical collaboration where he was involved to process marketing, outsourcing and liaison work with number of clients in mineral and other sector/ industries.
AMBASSADOR IN

 LIMA, PERU, SOUTH AMERICA
Bhai Partap Singh Khalsa
Bhai Partap Singh Khalsa is basically from Piura, Peru and he's currently living in Lima Peru.
Bhai Partap Singh Khalsa has studied from Sukho Khalsa Senior Secondary School, New Delhi and completed graduation from the University of Delhi in Delhi.
He is also known by the name of Casa Guru Nanak Lima Peru.
Bos Anna Ekamjot Kaur
Headmistress and Pre School Teacher
Bos Anna Ekamjot Kaur is a Headmistress and Pre School Teacher.
She follows Sikhism and Guru Granth Sahib.
She is currently living in Gesunda.
Kamal Kaur Spain
Ambassador in Spain
Kamal Kaur Spain is from Cordoba, Spain. 
Kamal Kaur Spain follows Sikhism and has been to India several times to visit the Holy Golden Temple in Amritsar, Punjab.
GURU ROOP SINGH
Ambassador in Ecuador
Guru Roop Singh is from Ecuador, South America.
He has practiced yoga at Kundalini Yoga Institute and now spreads the words of Yogi Bhajan.
Seva Kiret Kaur
Kundalini yoga teacher
Seva Kiret Kaur is a kundalini yoga teacher, teaches adults and children aged three to thirteen, even those with special needs.
She loves to sing and play guitar. She is a naturopath, therefore loves to take care of others with natural techniques, such as foot reflexology, aroma massage (aromatherapy), and the cranial sacral technique.
Every day, she apply in her life the teachings of the Master Yogi Bhajan, serving everyone and everything devoutly, as his spiritual nome wants.