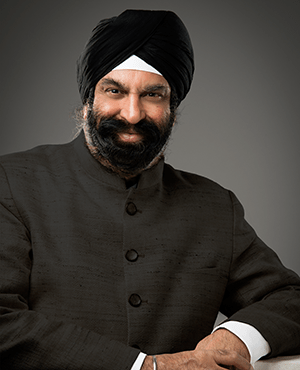 SURENDER SINGH KANDHARI
Founder of Gurudwara in Dubai & Chairmen of Al Dobowi group
Mr. Surender Singh Kandhari is the Chairman and founder of the Al Dobowi Group.
What started as an exploratory visit to Dubai in 1975 by Mr. Kandhari, led to the creation of a multinational company with diverse business interests under his visionary leadership. His passion for excellence and integrity are cornerstones on which the Al Dobowi family is built.
Mr. Kandhari is an active and respected leader both in business as well as in the community. He believes in giving back and has been recognized globally for his many philanthropic efforts. An avid golfer, he is a founding member of the Emirates Golf Club where he has served as the Golf Club Captain. He is also the Chairman of the Guru Nanak Darbar Sikh Temple in Dubai, in which he played a founding role.
Padma Shri Sardar Vikramjit Singh Sahney
Masters in Economics & Business Administration
Vikramjit Singh Sahney, is an Indian entrepreneur, educationist, philanthropist, and social activist.
He is a passionate Sufi singer for social causes. Vikramjit Sahney is the founder and chairman of Sun International – a leading conglomerate with varied business interests across the globe.
Shri Sahney has been conferred with one of the highest civic honor of Padma Shri by the Hon'ble President of India Smt Pratibha Patil for his extraordinary contribution towards the welfare of society at large.
Dr. Raju Chadha
(WAVE Group)
Raju Chadha has an impeccable record of delivering value and scaling large businesses by leading multi-disciplinary business projects & industry growth initiatives.
Recently he was in news for restoring & re-releasing the iconic Punjabi film "Nanak Nam Jahaz Hai" which explored the tenets of Sikhism. This selfless move by him prompted the Indian Institute of Oriental Heritage to confer Honorary Doctorate on Mr Chadha for his selfless contribution towards promoting Indian values and ethos.
Dr. Harbans Lal
scholar and lecturer
Dr. Harbans Lal is Emeritus Professor and Chairman, Department of Pharmacology and Neuroscience, the University of North Texas Health Science Center at Fort Worth Texas, and Emeritus Professor of Religious Studies, Guru Nanak Dev University at Amritsar, and was a graduate of Punjab University. He received a Masters degree from the University of Kansas and a Doctoral degree from the University of Chicago. In academic circles, he is known for his research in the areas of behavioral medicine, substance abuse, and on prolongation of a healthy life span. He has served on many US and international science advisory boards including serving for 14 years as the Editor of a monthly journal, Drug Development Research.
During his academic career, he published over 400 research papers, 20 books, several research reviews and 56 chapters in technical books. U. of North Texas Health Science Center established a pre-doctoral fellowship award in his name and recognition. Society of Neuroscience held an International Symposium on Anxiety to recognize his research, and its Chapter of Scientists of Indian Origin recognized him with Award of Outstanding Senior Neuroscientist.
Shri Gurinder Singh Bawa
MD & Chairperson: Bawa Group of Companies
Mr. Guinder Singh Bawa is a proud SGPC member and he is also the Chairman of Khalsa College in Mumbai. 
Mr. G.S.Bawa had a very humble upbringing in Mumbai and although there is nothing extraordinary to his introduction into the business world, what is extraordinary is his focus and his will to accomplish. 
At a very early age, Mr. G.S.Bawa joined his father's business, which involved taking projects for the Government. An amalgamation of hard work, determination and the best methods and technology paved the way to success and the Bawa Group earned contracts from reputed PSU's like ONGC and RCF. Today Bawa Group of Companies has spread its arms into various sectors with the most notable being Hospitality industry, infrastructure, Realty Market and the growing Health and wellness segment. 
With growing business has come added responsibilities and today the second generation of the Bawa clan has shouldered them with equal grace and commitment.